Chimney Sweeping is needed when a wood burning system accumulates more than 1/8″ of creosote buildup. When wood is burned, smoke that passes through the chimney can cool down and solidify. Solid smoke particles are called creosote, which is a flammable substance that can cause chimney fires. Chimney sweeping is done with brushes and other manual chimney cleaning equipment to remove creosote buildup. Sweeping the chimney also helps promote proper drafting so your fire is easier to light, drafts better and burns cleaner.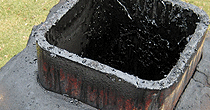 Our Chimney sweep services include a level one visual inspection and a video scan of the entire flue done with state of the art video scanning equipment designed especially for this purpose.
We also use a Triple Hepa Filter Vacuum, one of the best on the market, to make sure no dust or allergens enter the air in your home.
It is recommended that you have the chimney swept every one to two years depending on your usage. A good rule of thumb would be to have the chimney swept after each cord of wood used. If you smell smoky odors this too could be an indication you need the chimney swept.
We offer you, our valued customer, some of the best educated and knowledgeable chimney cleaning professionals in their field. Whether you want to call him the chimney sweeper, the chimney sweep or the guy who fixed my problem, it is all the same to us. Our goal is to have you as a customer for life.
All of our fireplace and chimney cleaning services are done with the some of the best equipment available on the market today.
Grand Rapids Air Duct & Chimney Cleaning takes pride in hiring qualified technicians to service your home. We serve the Grand Rapids area including surrounding communities.
We are available 24/7 Grand Rapids to respond to your cleaning request